Our Sea Island Wedding Weekend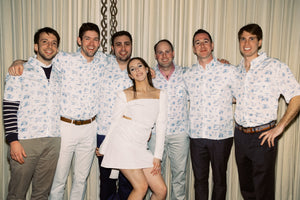 SEA ISLAND, Georgia—
"Who has merch at their wedding?" we wondered.
We have moccasins from Heidi & Alex, Hannah & Mitch monogrammed koozies and reusable solo cups from Jeanne & Bill.
Each gift is put to good use. We think about the couple and the good times we had at their weddings in Beaver Creek, Atlanta and D.C. whenever we keep our feet warm on a cold winter day, keep our beers cold on a hot summer day and open the cupboard (we have four of those solo cups, they had extras!).
We wanted to give our wedding guests a similarly thoughtful & unique gift to thank them for traveling all this way for us. Something comfortable, long-lasting and authentic like custom Mayor button-downs. Ladies could wear them over swimwear at the beach, lake or pool and guys could wear them whenever they needed something in between business and casual wear.
Sea Island, Georgia is an extraordinary place, but not an ordinary place for two New Englanders like us to get hitched. We chose to begin our next step in life together on Sea Island because family, friends and nature are treasured dearly there. Though the beauty, elegance and charm of Sea Island are reason enough, it is the genuine warmth of Sea Island's welcoming community, the hospitable staff and friendly guests, that compelled us to invite our guests here.
Together with our closest family members, friends from our childhood, college and 'adult' life, we celebrated our new life together among Sea Island's marvelous salt marshes, expansive live oaks and 'friendly little hotel.'
Our wedding was the first trip to Sea Island for many of our guests. They golfed, walked the beach, relaxed at the spa, rode horses, shot skeet, boated, and, of course, attended our wedding events!
Mayor listened to our vision for the Sea Island wedding weekend we had been planning for a year and a half. They collaborated with a local Atlanta artist to illustrate our story authentically, including Friday evening's low country boil at the Retreat Club House, exploring 'Alexa's Favorite Things: Wedding Weekend Edition' and Saturday night's main event at The Cloister (#GlossyGlamChic). Mayor adapted the print, Sea Island Retreat, to Mayor button-downs for all of our wedding guests and many of the Sea Island staff who made our special weekend possible.
Sea Island Retreat elevates the ordinary to the extraordinary, just as our guests elevated an ordinary weekend in late February into an extraordinary experience in Sea Island we will share stories about for the rest of our lives.
With love,
Alexa & Matt