Tigertown Tailgate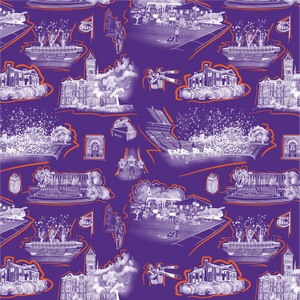 CLEMSON, South Carolina—
"Take this rock and throw it over the fence, or out in the ditch. Do something with it, but get it out of my office!"
And so, Howard's Rock, Death Valley, and the most exciting 25 seconds in college football began with Clemson legend, Frank Howard, cleaning out his office in the summer of 1966 and cussing out a two-and-a-half-pound doorstop.
Nestled in the rolling foothills of the Blue Ridge Mountains, emerging above the banks of Lake Hartwell, for seven to eight Saturdays every fall, Clemson, South Carolina becomes Tigertown.
Over the fence where Howard's Rock may have been thrown were it not for Clemson booster Gene Willimon, the heavenly scent of whole hogs roasting on smoker trailers fills the air. Bowman Field, massive intramural fields and concrete parking lots become a tailgating sea of orange & regalia canopies, campers and tiger paw cornhole boards organized neatly among the green grass & champion trees.
Droves of friendly Clemson families offer you food & drink, like a hundred and fifty-thousand-person reunion that has been going strong all week. You can almost taste the pulled pork sandwiches, chicken & waffle sliders with maple syrup, fried chicken, grilled sausage, vinegar-based coleslaw, baked beans, all in bread, white chili, pimento cheese cookies, candied bacon Bloody Mary's, mimosas and sweet tea.
Experience the magic of game days in Clemson wherever you go in Mayor's new quarter-zip, Tigertown Tailgate illustrated by local South Carolina artist Helen Fallaw.
Leave a comment
Comments will be approved before showing up.