Helen Fallaw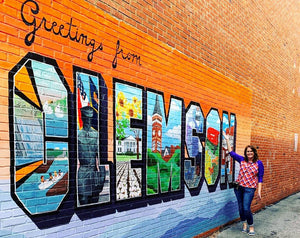 "Come quickly. Have found heaven …"
Upon first experiencing the heaven of South Carolina, the artist Alfred Hutty immediately sent a poignant telegram (1900s text message) to his wife.
From King Street in Charleston to Death Valley in Clemson, you know South Carolina is heaven. Like Mr. Hutty, you too share this sentiment with family and friends (perhaps on Instagram instead of telegram).
Local South Carolina artist Helen Fallaw shares this sentiment too: "I love my home state of South Carolina."
Helen shares your love for South Carolina in Mayor's new prints, Tigertown Tailgate and Charleston Lowcountry. Born, raised and residing in South Carolina, Helen has spent her life in the heaven of South Carolina.
Inspired by the beauty, history, and nature of her home state, Helen illustrated the South Carolina scenes you love in her timeless hand-painted style.
Helen's wearable artwork, Tigertown Tailgate, radiates the essence of Clemson on game day, as if you, the Mayor of Tigertown, are there, in the scenes of her print:
Tailgating all day with the Clemson family that taught you the only game on the schedule that really matters is the Palmetto Bowl.
Shaking the Southland with eighty-one thousand class rings raised high upon circling fists en route to yet another win in Death Valley.
Racing to the bars downtown to join in the massive celebration and returning to the tailgate well after the fireworks finish with your old college crew for another few hours of behaving like twenty-year-olds.
Charleston Lowcountry radiates the essence of Charleston, as if you, the Mayor of King Street, are there, in the scenes of her print:
Wandering south on King Street, guided by many a church steeple to the tip of the city, the Battery, and returning home in 18th-century style by means of horse & buggy, riding past the tourists at Rainbow Row and the Waterfront Park's Pineapple Fountain along the way.
Boating through every inch of the lowcountry—the creeks, rivers, bays and open ocean—from Boone Hall, under the Ravenel Bridge, past Fort Sumter, all the way out to the Morris Island Lighthouse and back to the dock for sunset on the marsh.
Post-wedding brunching on fresh seafood by the market, clad in seersucker and regaling fellow wedding guests with tales of lost balls (by you) and low scores (by the groom) at Kiawah's Ocean Course and Isle of Palms' Wild Dunes earlier that week.
Helen also illustrated Mayor's new polo, Tuscaloosa Parade.
Leave a comment
Comments will be approved before showing up.