Summers on the Vineyard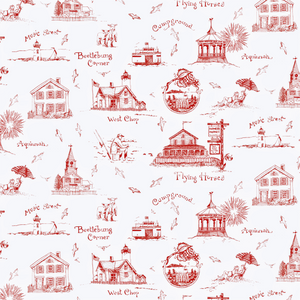 MARTHA'S VINEYARD, Massachusetts—
"Even as I talk, I can see it and smell it and feel it.  It's a special, insular, quiet, healing, glorious place.  And year after year after year, you not only see your kids and your grandchildren grow, but you see everybody else's kids, the same people, grow.  There's a strange continuity to life on the Vineyard."
From the welcoming sight of weathered, shingled cottages that survived another harsh New England winter to the smell of fresh produce at the West Tisbury Farmer's Market to the feeling of stealing a ring from the Flying Horses, Summer on the Vineyard has arrived.
Wonderfully captured above by journalist & longtime summer resident, Mike Wallace, as nothing short of utopia, the Vineyard's unique combination of community, family and tradition is unlike any other summer colony.
Taste the pistachio ice cream at Mad Martha's, take a stroll out to the West Chop Lighthouse and hum a frightening tune crossing the Jaws bridge—enough memories to last until you ferry on island nine months later for yet another Summer on the Vineyard.
Experience the magic of Martha's Vineyard wherever you go in Mayor's new button-down, Summers on the Vineyard illustrated by local Martha's Vineyard artist Susan Branch.
Leave a comment
Comments will be approved before showing up.