Susan Branch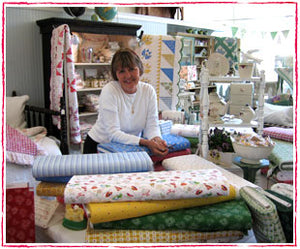 "People ask me what they shouldn't miss when they visit the Vineyard. For me, it's the simple, old-fashioned, small-town ambience … eat lobsters and watch the sunset … fish, play golf or tennis, go for a bike ride in the state forest, nap in a hammock. How could I not fall in love with it; it's my dream …"
Local Martha's Vineyard artist Susan Branch shares your love for Martha's Vineyard, from the magic of ferry boats, to daffodils and church bells in Mayor's new button-down, Summers on the Vineyard.
Inspired from her studio in the front left window of the house in the print, Susan illustrated the Martha's Vineyard scenes you love in the classic toile style. Susan finds healing in the sea and surf that surround her Isle of Dreams and "could never, in a hundred summers, get tired of this."
Susan's wearable artwork radiates the essence of summers on the Vineyard, as if you, the Mayor of the Vineyard, are there, in the scenes of her print:
Stepping off the ferry at Oak Bluffs and into a fairytale amongst the Gingerbread Cottages looking good enough to eat.
Catching a twilight concert at the Ocean Park Bandstand beneath a sky full of fireworks.
Falling in love at Grand Illumination Night all over again, year after year after year.
Leave a comment
Comments will be approved before showing up.