Charleston Lowcountry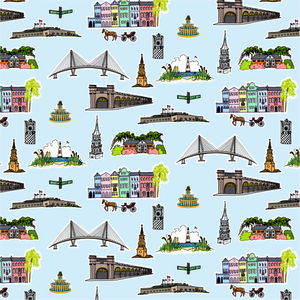 CHARLESTON, South Carolina—
"There is no city on Earth quite like Charleston," declared the novelist, Pat Conroy. "From the time I first came there in 1961, it's held me in its enchanter's power, the wordless articulation of its singularity, its withheld and magical beauty. Wandering through its streets can be dreamlike and otherworldly, its alleyways and shortcuts both fragrant and mysterious yet as haunted as time turned on itself."
It's warm and a breeze blows in off the sea. From the pristine beaches with their gentle waves, stunning white sand and rickety dune fences to historic downtown's cobblestone streets lined with leafy sabal palmettos, rainbow-colored homes and towering steeples, through all the little country roads weaving between marsh, wetland and tidal creeks, the heaven of Charleston, South Carolina is indeed dreamlike and otherworldly.
Conroy continues, "Charleston has a landscape that encourages intimacy and partisanship. I have heard it said that an inoculation to the sights and smells of the Carolina lowcountry is an almost irreversible antidote to the charms of other landscapes, other alien geographies. You can be moved profoundly by other vistas, by other oceans, by soaring mountain ranges, but you can never be seduced. You can even forsake the lowcountry, renounce it for other climates, but you can never completely escape the sensuous, semitropical pull of Charleston and her marshes."
Experience the magic of Charleston wherever you go in Mayor's new button-down, Charleston Lowcountry illustrated by local South Carolina artist Helen Fallaw.
Leave a comment
Comments will be approved before showing up.