Turner Hull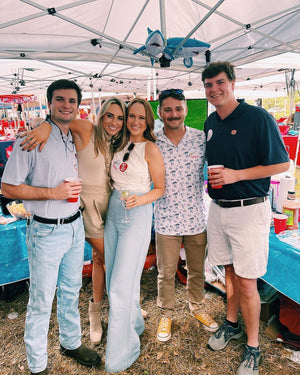 "I made my home at The University of Mississippi, hotty toddy!! Throughout my four years there, I grew more than I could imagine as a person and an artist. I graduated in spring of 2018, coming home with a completely broken heart believing that the best four years of my life were over. I was lost with what was my next step and looking for any sort of direction. I missed my college friends so much that one night I painted a graduation photo of all of us together. I posted the painting to Instagram and immediately had a rush of heart-sick fellow graduates message me to paint their friends. It was one order after another, and they never stopped. That first painting took my life in a whole new direction and I am forever grateful. What started as a joyful outlet turned into a career …"
Ole Miss alum & local artist Turner Hull ('18) shares your love for Oxford in Mayor's new polo, The Velvet Ditch.
Inspired by her college years at Ole Miss (& frequent visits back to The Grove!), Turner illustrated the Oxford scenes you love in her timeless style.
Turner's wearable artwork radiates the essence of Oxford, as if you, the Mayor of the Velvet Ditch, are there, in the scenes of her print.
1 Response
Leave a comment
Comments will be approved before showing up.
---
Also in Artists
Mayor Clothing Size Guide
Mayor clothing is breathable, drapes softly over your body in a flattering silhouette and comfortably fits true to size.
Feel the perfect fit of Mayor's classic clothing designs by following our size guides below: