Shelby Gilbreath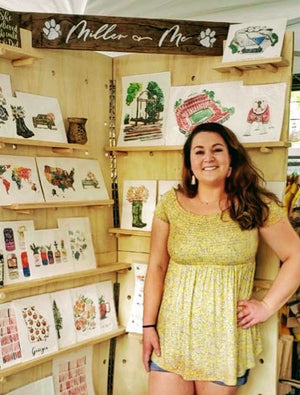 "My calling to create artwork began in Athens with an English Bulldog named Uga, the subject of my first painting …"
Local Athens, Georgia artist Shelby Gilbreath shares your love for lively game days in Athens in Mayor's new print, Goin' Back to Athens Town.
Inspired by her years living in Athens, Shelby illustrated the Athens game day scenes you love with hand-painted watercolors in a classic style.
Shelby's wearable artwork radiates the essence of the Classic City, as if you, the Mayor of Athens Town, are there, in the scenes of her print.
Roaming the classic downtown, between the bars, tailgates and campus with an endless list of your extended football family.
WOOFing & yelling glory, glory with ninety-three thousand of your closest friends until the chapel bell rings.
Having a grand ol' time bar-hopping with your old college crew for another few hours of behaving like twenty-year-olds.
8 Responses
Leave a comment
Comments will be approved before showing up.
---
Also in Artists
Mayor Clothing Size Guide
Mayor clothing is breathable, drapes softly over your body in a flattering silhouette and comfortably fits true to size.
Feel the perfect fit of Mayor's classic clothing designs by following our size guides below: