Pete Caswell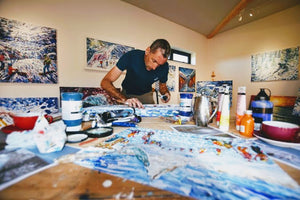 "Fun, joy, pleasure and happiness rule the mountains ..."
You love to have fun, enjoy life, smile and be happy. You feel bliss skiing and snowboarding down snowy mountains. Your bliss—pure unadulterated fun, joy, pleasure and happiness—is distilled in renowned ski & snowboard artist Pete Caswell's artwork in as much depth, concentration and exhilaration that can flow from the end of his paintbrush.
Experience that elusive bliss by relaxing your analytical mind, allowing your eyes to absorb Pete's artwork and combining the colors & lines to piece the image together. You are experiencing the fun, joy, pleasure and happiness that rule the mountains again.
Pete shares your love for the bliss of skiing and snowboarding in Mayor's new print, Ski Trip.
Pete travels to your favorite ski resorts around the world all winter to paint mountains full of skiers and snowboarders. His paintbrush is always on hand to distill the bliss from your latest skiing & snowboarding story into a painting.
Inspired by the physical pursuit of pleasure and the spiritual quest for inner joy, Pete illustrates the skiing & snowboarding scenes you love with oil on canvas in his timeless style activated by Impressionist brushstrokes, subtle visual cues and semi-abstract techniques like light & dark, sparkling colors and gold & silver leaf.
Pete's wearable artwork radiates the essence of your ski trips, as if you, the Mayor of the Mountains, are there, in the scenes of his print:
Road-tripping out West with your ski bum crew from Heavenly & Squaw Valley in Lake Tahoe to Park City to Breckenridge, Vail & Aspen in Colorado to Jackson Hole to Big Sky to Whistler.
Day-tripping with your fellow New England locals clad in neon for the '80s in Aspen lodge party that night.
Finally partaking in the O.G. après ski in the French Alps for the holidays with your family after hearing about it all these years.
1 Response
Leave a comment
Comments will be approved before showing up.