Missy Barro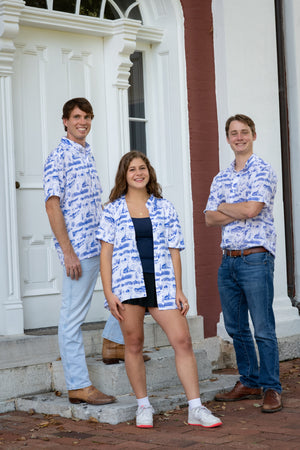 "I fell asleep drawing these little blue beauties and had dreams of Lee Chapel …"
Washington & Lee alum & local artist Missy Barro ('21) loves W&L so much the awe-inspiring campus in the valley of Virginia with its the Greek Revival architecture and rich history of tradition, honor and civility fills her dreams. Missy shares your love for W&L in Mayor's new button-down, Good Ol' Dubyuhnell.
Inspired by her college years at W&L (& frequent visits back to Lex!), Missy illustrated the W&L scenes you love with ink pen in her timeless style.
Missy's wearable artwork radiates the essence of Washington & Lee, as if you, the Mayor of Dubyuhnell, are there, in the scenes of her print:
Exploring the Virginia countryside with your best friends in the world—hiking House Mountain in the morning, floating down the Maury in the afternoon and watching the sunset behind the sorority houses from Cadaver Bridge.
Strolling through campus from Lee Chapel through the Colonnade all the way to the Ruins as faces familiar and new pass by saying "hello."
Returning to Wilson Field for Homecoming and leaving early for a drink at the Palms, followed by an evening of band parties in Red Square and late nights in the country hopping from the Pole Houses to bonfires on Windfall, seeing your entire W&L family along the way.
Leave a comment
Comments will be approved before showing up.
---
Also in Artists
Mayor Clothing Size Guide
Mayor clothing is breathable, drapes softly over your body in a flattering silhouette and comfortably fits true to size.
Feel the perfect fit of Mayor's classic clothing designs by following our size guides below: