Kimberly McSparran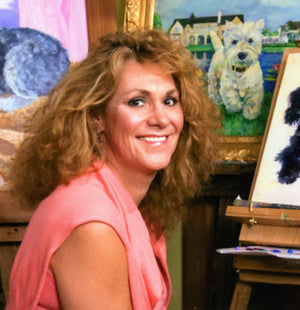 "The Hamptons are my paradise! I love to draw out here on the East End of Long Island. The lighting & natural beauty of the land as it meets the water, the flora & fauna are unique and inspire my work of the Hamptons most difficult, demanding and breathtaking golf courses and their magnificent clubhouses …"
Local Hamptons artist Kimberly McSparran shares your love for the majesty of golfing in the Hamptons in Mayor's new button-down, Hamptons Golf Game, capturing this paradise for generations to come.
Inspired by a lifetime of living year-round in the natural beauty of the Hamptons, Kim illustrated the Hamptons golf scenes you love by hand in the classic toile style.
Kim's wearable artwork radiates the essence of golfing in the Hamptons, as if you, the Mayor of the Hamptons, are there, in the scenes of her print:
Springing eternal hope for yet another golf season in the shadow of the iconic Dutch windmill at National with your regular Saturday morning foursome.
Catching a glimpse of the sly foxes that lurk around Maidstone.
Navigating the Tiger galleries to watch the pros battle the elements at Shinnecock on Father's Day Weekend.
Walking up the par 5 eighteenth at Atlantic like a pro.
Post-wedding brunching at Sebonack after an unforgettable night celebrating a lovely couple.
12 Responses
Leave a comment
Comments will be approved before showing up.