Kathleen Berry Bergeron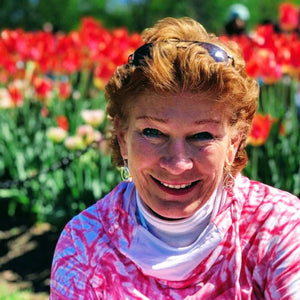 "I love Vermont because of her hills and valleys, her scenery and invigorating climate, but most of all because of her indomitable people. They are a race of pioneers who have almost beggared themselves to serve others. If the spirit of liberty should vanish in other parts of the Union, and support of our institutions should languish, it could all be replenished from the generous store held by the people of this brave little state of Vermont …"
Nearly a century after President Calvin Coolidge uttered his immortal words about his home state in 1928, you know the hills, valleys and scenery of Vermont that the former President lauds because of Vermont's indomitable people.
Local Vermont artist Kathleen Berry Bergeron is one of these people: "I am very blessed to be an artist and love to bring the joy I feel for it to others."
Kathy shares your love for the brave little state of Vermont in Mayor's new prints, Stowe Mountain Village and Autumn in New England. Born, raised and residing in Vermont, she creates artwork with vivid colors and a delicate touch. Kathy loves painting outside in the invigorating climate.
The majestic & ever-changing landscapes full of color, light and shadow are an ambiance of creativity for her to capture the essence of a fleeting moment. Her watercolors evoke the quiet times in life where you can appreciate all that is good and soak it in, leaving with a feeling of warmth and peace.
Inspired from her studio in Jericho, Kathy illustrated the Vermont scenes you love with hand-painted watercolors in her nostalgic style.
Kathy's wearable artwork, Stowe Mountain Village, radiates the essence of Stowe, as if you, the Mayor of Stowe, are there, in the scenes of her print:
Hoping you get snowed in for the winter with your closest friends, swapping the skyscrapers, traffic & dirty snow piled high for skiing all day, evenings at the taverns for world-famous craft beers & farm-fresh culinary delights followed by nights curled up by the fire.
Exploring the wonderland of evergreen forests, frozen ponds and snow-filled fields on ski, skate and snowmobile for a holiday weekend with your family fit for a postcard.
Gazing from high atop the mountain to the valley of miniature trees and cabins below with your ski bum crew before one last run.
Autumn in New England radiates the essence of Vermont, as if you, the Mayor of New England, are there, in the scenes of her print:
Enjoying maple syrup straight from the tree, a glass of fresh pressed apple cider and high school football on a Saturday morning.
Exploring the majestic mountains, reaching up and touching the sky.
Sipping on a golden-toned craft beer by a roaring fire as the embers crackle, sun sets and plans for the next fall day are made.
Leave a comment
Comments will be approved before showing up.