Heather Blanton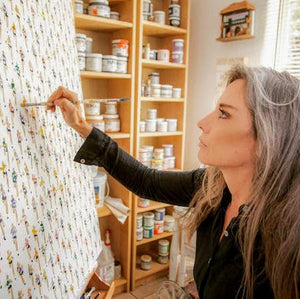 "My work is a celebration of the human spirit and the will to win. My brushstrokes revel in the only thing that matters—the heart of competition and that amazing athletic desire to work harder to become the best. We are all competing in life, all the time, and my purpose is to display that physical and psychological urge in humankind to perform and succeed …"
This year you will go faster, turn quicker, fly higher. Your love of competition is the bedrock of renowned sports fine artist Heather Blanton's artwork of athletic subjects in motion. Heather shares your love for the competitiveness of skiing & snowboarding in Mayor's new quarter-zip, Powder Days.
Inspired by your exhilaration and energy on the mountain, Heather illustrated the skiing & snowboarding scenes you love with acrylic and pencil on canvas in her animated and whimsical style activated by deliberate, repetitive brush strokes. She paints what you feel in extremely heated moments racing down the mountain—the human spirit thriving on excellence brought on by competition and the will to win.
Heather's wearable artwork radiates the essence of skiing & snowboarding, as if you, the Mayor of the Mountains, are there, in the scenes of her print:
Straightlining with the powder hounds down Alta Zero in Jackson Hole, Tohelluride in Big Sky, Idiot's Delight in Tahoe, Straight Shot in Utah & all the other aptly named steep slopes out West.
Buckling in with your fellow New England locals for the annual Thunderbolt Run through the backcountry.
Finally carving through the Alps for the holidays with your family after hearing about it all these years.
5 Responses
Leave a comment
Comments will be approved before showing up.