Emma Garfield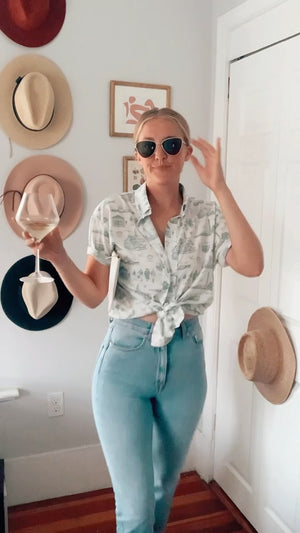 "Growing up in Marblehead, MA, art was always my go-to pastime. I learned how to paint at a local art school, Acorn Gallery, and learned all about my many new mediums in my classes in middle school. After-school snacks were always accompanied by a box of crayons or markers, and every gift I gave typically meant creating a mess on the kitchen floor …"
Local Marblehead, Massachusetts artist Emma Garfield shares your love for Marblehead in Mayor's new button-down, Moored in Marblehead.
Inspired by her childhood in Marblehead, Emma illustrated the Marblehead scenes you love in her timeless style.
Emma's wearable artwork radiates the essence of Marblehead, as if you, the Mayor of Marblehead, are there, in the scenes of her print.
Inspired by her college years at St. Lawrence University, Emma ('16) also illustrated Mayor's new quarter-zip, North Country.
Leave a comment
Comments will be approved before showing up.
---
Also in Artists
Mayor Clothing Size Guide
Mayor clothing is breathable, drapes softly over your body in a flattering silhouette and comfortably fits true to size.
Feel the perfect fit of Mayor's classic clothing designs by following our size guides below: